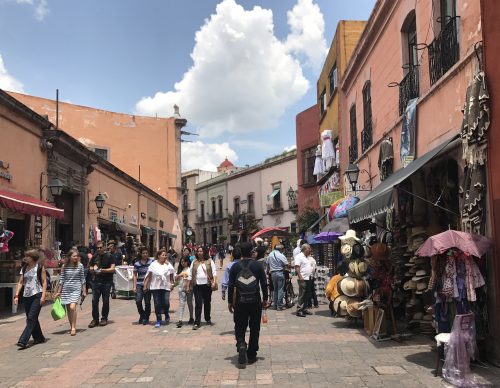 Recently a good friend Marc, who blogs at An Alaskan in Yucatan, helped facilitate my presentation for  doing some volunteer work in Mexico's altiplano (highlands).  It was a refreshing change from the heat and humidity of Merida. The visit opened my eyes to other charms of this dynamic country.  I hope to return with my wife during the hottest part of Yucatan's season, next year.  This blogpost will share some of the sights I encountered.
The city is a walker's paradise, which is deeply appreciated, when compared to Merida.    Driver's here have a deep respect for pedestrians, and patience;  sidewalks are level and wide;  overhanging meters, air conditioners, and awnings are at an elevation that does not endanger tall people's heads.  Shade trees abound.  The historic center is wisely and fairly restricted to traffic so that pedestrians also have accommodation. (Merida, I do still love your many fine qualities!)   ¶   I flew to Mexico City and took a three-hour bus ride to get here.
Being a country boy, it was fun to get a close-up look at Mexico's dairyland.  Corn and cows were  everywhere. And the landscape was dramatic, with deep ravines, volcanoes and waterfalls amply distributed.  Below, basalt oozed from upwelling hot lava to cool, forming a natural dam and waterfall.
We took a hike into a deep ravine behind the house, and visited an ancient-but-still-functioning pottery facility carved into the cliff face.  The studio specializes in producing comals which are large griddles for toasting tortillas.  Nobody was working the day we dropped by.  I wish I could have watched these thin, flat ceramic pans being formed.  We saw them for sale in the village, but I doubted that a 24-inch pan would have survived the journey back to Merida.
Below we see the staging area for drying the clay pan, before baking it in the kiln, foot for scale:
"Me, all thumbs:" of Marc, peering into the kiln, which is fired with scrub oak harvested from the ravine.
Interior of a kiln, showing shards of broken comal pottery.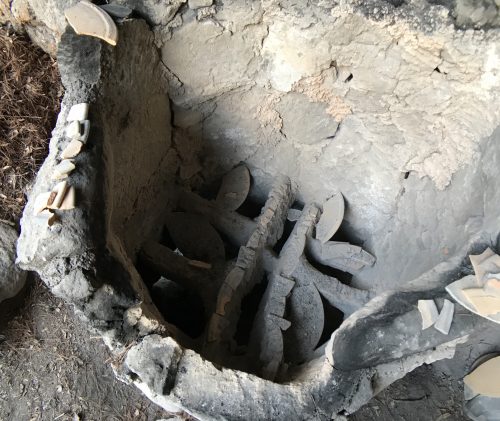 The ravine reveals much about the underlying stratigraphy of the rocks, which are an important construction-materials resource in the region.
Here we see rock blocks (instead of concrete blocks) being sawed from a quarry.
Rock blocks for sale, roadside.
And more quarry stone from which they were cut.